COLUMBIA CUP 2008: U-6 Oh Boy! Oberto and Steve David are the champions
Posted: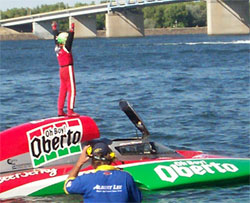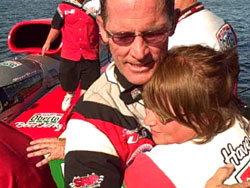 KENNEWICK, Wash. - A crazy final race for the Columbia Cup 2008. When it was over, it was Steve David in the U-6 Oh Boy! Oberto/Miss Madison claiming victory in the winner-take-all finals.
VIDEO: WATCH FINALS VIDEO >>
It sure didn't look like that was going to be the storyline. Jean Theoret in the U-37 Beacon Plumbing had the race won. But a prop broke on turn two and blew a hole in the boat coming into the home stretch in lap four. Theoret had to shut the boat down to avoid further damage.
"Jean Theoret had me," said David.
"It was a brand new prop," said Theoret. "We had that race, but it wasn't meant to be."
VIDEO: Jean Theoret interview after the finals >>
That mishap opened the door for David, who had been running hard in second place to take the checkered flag.
VIDEO: Steve David after winning the Columbia Cup 2008 >>
And that was just the drama at the end of the race. There was plenty more at the beginning.
Dave Villwock in the U-1 Elam was hit with a one-lap penalty, which took him out of the top spots.
VIDEO: Dave Villwock interview after the finals >>
David Bryant in the U-10 Hoss Mortgage Investors was in the lead on lap four after Theoret's mishap, but David was able to run him down. Officials determined Bryant had jumped the gun anyway, so that secured David's win.
VIDEO: David Bryant interview after finals >>
That meant a second place finish for an ecstatic Brian Perkins in the U-50 Miss Albert Lee. "Absolutely incredible," said Perkins. "I can't hardly believe it."
VIDEO: Interview with a happy Brian Perkins right after the finals >>
The FormulaBoats.com team finished 3-4 in the fnals with Jeff Bernard in the U-5 in third. Jimmy Shane, driving the backup U-7 and coming out of the trailer position, wound up fourth in his first ever Unlimited Hydroplane finals race.
Villwock and Bryant each had to run an extra lap and Villwock battled to catch up - and pass Bryant - for fifth.
David had never won at Tri-Cities. "This is one of the few race courses I hadn't won on," he said. "It's a honor to run with the best boat drivers in the world."
Complete Race Results from every heat, including final points >>
The damage to the U-37 is significant, but the crew thinks it's fixable for Seafair.
Prior to the finals, Jimmy King and the U-3 Hoss Mortgage Investors Too were forced to withdraw due to mechanical problems.
VIDEO: Jimmy King talks about piston trouble that kept U-3 out of finals >>