2008 Columbia Cup Reactions
Posted:
Updated: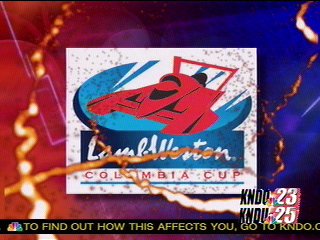 KENNEWICK, Wash. -- The Unlimited Final brought you all you could ask for today at the Columbia Cup.
At the start of the race, David Bryant was in front in the U-10 but he crossed the starting line too soon and received a one lap penalty
Dave Villwock wa also penalized a lap for a lane violation.
The U-37 Miss Beacon Plumbing, driven by Jean Theoret, was out in front through three and a half laps. But his propellor broke and he was dead in the water.
That allowed Steve David to pull ahead. He drove the Oh Boy! Oberto perfectly the rest of the way, taking the checkered flag.
Brian Perkins finished in 2nd place, Jeff Bernard in the U-5 third, Jimmy Shane in the U-7 4th, followed by Villwock and Bryant.
With the win, David pulls more than 600 points ahead of U-5 driver Jeff Bernard in the 2008 high points race.
Here are what drivers had to say after the race:
David said, "Let's let the Oberto team thank every other team out there because I know they drove their hearts out. Dave Bryant, Jean Theoret, who was clearly beating us, and the Formula guys really battled all day, and Dave Villwock and the Elam were running fast. We are running with some of the finest drivers in the world. Today's our day, tomorrow, who knows. Oberto will celebrate this day. We go from here with a lot more points than we came in with. Oberto is delighted. This is one of the few races I hadn't one, so it is an honor to win this one."
U-1 Driver Dave Villwock, on his lane violation penalty: "We had three boats trying to get into two lanes. So the 5 tried to cross behind the 10 and I pulled up alongside the 10 and didn't allow him to do that and they called me for it because I closed off the possibility but he had no right-away at that point. He came from the infield and he doesn't have right-away at that point. We were here to test things, get things running, and we did that, so that's good."
U-37 Driver Jean Theoret, on breaking his prop: "It was a great disappointment, but also it is a very satisfying feeling to go out there and be in front so much, to be with all these fast competitors, to get the inside lane. It was great satisfaction and then a great disappointment. But if that's the way the Lord wants it, then we have to accept it."