As Cost Goes Down, Solar Energy Rises
Posted:
Updated: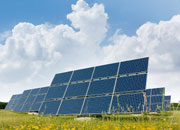 Solar power is getting cheaper, edging it closer to being cost competitive with electricity generated by burning fossil fuels. For firms and homeowners in California and the Southwest, the cost of solar-cell power will fall 25%, to 25¢ per kilowatt-hour (kWh), by 2011.
In 10 years or so, power providers in the West, South and Mid-Atlantic regions likely will pay 12¢ to 15¢ per kWh for electricity from sun farms and rooftop solar panels.
Solar power's appeal is getting a boost because of escalating costs to produce conventional power with coal and natural gas, whose prices are moving nearly in tandem with soaring oil prices. It's a prime reason why electricity prices have jumped as much as 50% in less than a decade to around 11¢ per kWh or so and will continue to rise. Utility companies know they face even steeper production cost hikes when carbon dioxide (CO2) emissions limits are phased in during the next decade, effectively requiring them to cut back on coal usage and buy credits to offset CO2 made by burning coal. That's why they will be eager buyers of noncarbon-emitting solar power.
Meanwhile, technological advances are driving solar volt costs down to earth by boosting cells' efficiency at converting sunrays into electricity and slashing costs of making and installing systems. This is getting a big push from manufacturing powerhouses, such as Applied Materials and IBM, which are building production lines -- with huge economies of scale -- to make solar power cells.
Coming within a few years: Buildings wrapped in special siding will be capable of converting solar rays into electricity to power a building's heating and cooling units. Companies like Nanosolar and Miasole are developing ultrathin films, made with silicon or exotic compounds, such as cadmium telluride, that can bend and literally be cut like carpet or a bolt of fabric to fit. After years of laboratory work, Stirling Energy Systems' solar concentrator is cranking out power for California, using highly focused sunbeams to boil water to power electric turbines. Asura Inc. soon will start up such an operation in Arizona.
The advent of affordable solar power has outsized implications for businesses, giving them the ability to moderate, if not offset, steady climbs in electricity bills, especially during peak demand periods in summer and winter when those kilowatt hour costs spike. One option: free rooftop solar panels. Akeena Solar, Alpha Energy, SolarCity and other energy companies will install photovoltaic panels at your facilities and operate them while selling you the electricity they produce. Buyers sign a contract to buy the power at a set price for the panels' life span. Customers remain hooked up to the grid, insuring power will be there if they need it.