Richland City Planners Say Underutilized Parks are Costly to Maintenance
Posted:
Updated: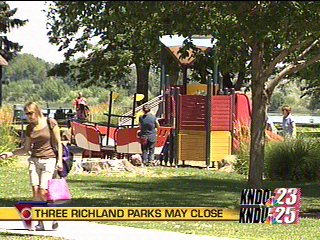 RICHLAND, Wash-- Three parks in Richland may be closing because city leaders say they don't get enough visitors. Neighbors disagree, but city planners want people to see it from their point of view.

Neighbors next to tiny Westwood Park don't want it closed, but a lot of people don't realize how many public parks Richland has and how much they cost.

Westwood Park is a dog's paradise. There's lots of room to play catch, but this park along with three others may be closing.

"I wouldn't mind my taxpayer dollars go to keep the parks open," said Connie Hull, Richland resident.

The city is going through a process to determine if the parks are viable to maintain. Westwood costs about $5,000 a year.
"From a neighborhood point of view there's no doubt they have value but for 46,000 residents how valuable are these three parks that's what we've been talking about," said Phil Pinard, Richland Parks and Recreation.

When Richland was zoned by the federal government, during the rise of Hanford, there were green zones designated as park areas. Westwood was actually deeded to the city.
"At the time we didn't have a comprehensive park plan and if someone offered us park land or if we felt a park is needed we took it," said Pinard.

One neighbor remembers when Westwood became a public park, after the landowner gave the city the land.
"Well I think it ought to stay. There's a lot of people that come here all the time, a lot more than they say there is," said Vernon Belliston, who lives next to Westwood Park.

While neighbors are in limbo waiting to see what may happen, they are still enjoying the park.
Richland Parks and Recreation hope that someone decides to adopt Westwood Park. There are other parks where volunteers help with mowing lawns.