SEATTLE 2008: U-6 Oh Boy! Oberto/Miss Madison looks to defend Seafair title
Posted:
Updated: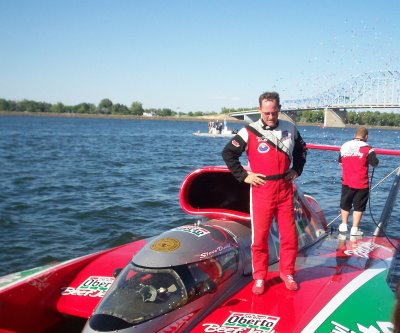 SEATTLE, Wash. - Steve David and the U-6 Oh! Boy Oberto/Miss Madison team find themselves in a somewhat new position: defending champions.
The team won the last two races of the 2007 season at Seattle and San Diego and looks to build on the win at Tri-Cities last weekend by repeating at Seafair this weekend. "Quite frankly, this defending champion thing is new for us," said David. "And we're humbled to be in this position."
Defending the title in Seattle won't be easy. There's been a different winner at every race site this year and with the return of the U-1 Elam and Dave Villwock to the line-up, the competition is tougher than ever.
"I've said this all year," said David. "The competition is the deepest and most fierce in our sport's history." In previous eras, David said, you had two or three boats with legitimate chances to win. "Now we've got at least seven, if not more," he said.
David leads the weekend's 13 boat fleet in ABRA National High Points with 4764. That's 618 points ahead of Jeff Bernard in the U-5 FormulaBoats.com. David was the two-time National High Points driver champ in 2005 and 2006, but what he'd really like to do is bring the team title and the U-1 designation to the city of Madison.
"A repeat in Seattle may be the final step in achieving that elusive goal," he said. "The city of Madison has won a Gold Cup. Oberto and Madison have won two driver's championships, but we've never in our 48 year history won U-1 for our race boat."
It's within reach for the team this year. Even though Tri-Cities was the first winner-take-all finals win for the team in 2008, they've been consistent, finishing either first or seconds in 19 of 24 heats entered so far this year.
David's has 20-plus years of experience as an Unlimited-class driver, beginning his career as the drive of Jim McCormick's Pocket Savers Plus boat in 1988. He was named Rookie of the year that year. He's been behind the wheel of the U-6 for the past 8 seasons.
Despite the years in the cockpit, winning never gets old. "I'm more pumped than I've ever been," said David.