Job Scam Circulating Classifieds and Internet Databases
Posted:
Updated: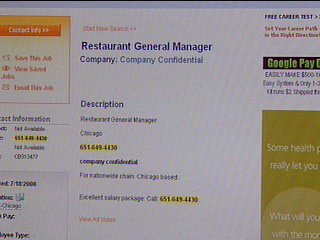 KENNEWICK, Wash.-- There's a new job line scam circulating around on Internet job databases and newspaper classifieds.
The job posting or advertisement makes the job sound great. You call the phone number, which is 651-649-4430, you get a recording describing the job, and telling you to leave a message with only your name and phone number, but no personal information. So many people think the job sounds legitimate. The message is very vague, saying the company is putting a "regional office in your area." This same phone number has been found in postings for many different locations.
The problem is, when someone calls you back to set up and interview, they ask you to wire money to the company for your flight and travel expenses. The Better Business Bureau says it's usually about $300, and the company claims they're reimburse you once you arrive for the interview. Many people fall for this and wire the money. However, Norma Miller, Information Specialist for the Better Business Bureau, says, "The people [the scam artists] get the money, then they can't be found. So you can't get your money back because you wired it, and you're booked on a non-existent flight. So, you're not going anywhere."
To avoid scams like this, don't wire money to anyone you don't know , and don't give out personal information, like your social security number or bank account number. Make sure to research any company you want to work for. Miller also says, always be weary of any company that asks for money up front for your interview costs.