Younger drivers making a name for themselves in Unlimited Hydroplane racing
Posted:
Updated: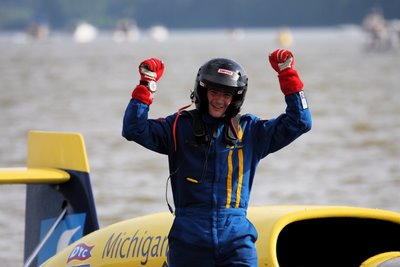 Brian Perkins after winning his first heat in the U-50 Spirit of the Navy - PHOTO: Jim Simpson
SEATTLE, Wash. - The kids may be catching up to the kings of the hydroplanes.
Steve David, driver of the Oh Boy! Oberto boat, enters this weekend's Chevrolet Cup at Seafair fresh off a victory in the Columbia Cup in Kennewick.
David, the defending champion of the Seafair regatta, is having the best year of his career. With two events remaining on the 2008 racing schedule he is on top of the point standings.
David is enjoying success at an age when most professional sports figures are golfing and well into retirement. He is 54, the same age as Dave Villwock, driver of Ellstrom E-Lam Plus. Villwock was the national champion driver in 2007.
But the sport viewed to favor older drivers with years of experience in smaller classes is changing. Several young upstarts are demonstrating their ability to compete with the established veterans: Jeff Bernard, J. Michael Kelly, Brian Perkins and Jimmy Shane are all in their 20s.
That's fine with David.
"When you look at it from a legacy standpoint, it's comforting to know we have sharp young drivers coming along," he said this week in advance of Friday's first qualifying heats on Lake Washington and Sunday's finals. "We have young fans and they'll be able to relate to the young drivers."
Unlimited hydroplane racing has always been home to drivers of all ages. Billy Schumacher, owner of Miss Beacon Plumbing, was only 18 when he began driving unlimiteds in 1961. Walt Kade was 68 when he drove in the 1972 Gold Cup.
"It's neat racing against a guy like Steve David, because I grew up watching him and cheering for him," said the 23-year-old Bernard, the driver of Formulaboats.com.
He is second to David in point standings, and won the race at Madison, Ind., in early July.
"He would stop what he was doing and make time for kids," Bernard said of David.
Kids such as Bernard. When Bernard was about 9 years old, he sat in the cockpit of the boat David was driving at the time. More recently, David has been a mentor to Bernard.
Kelly, a 29-year-old who drives the Graham Trucking boat, believes the younger drivers have to prove themselves to the veterans before truly belonging among them on the hydros circuit.
"I think the older drivers are OK with younger drivers, as long as they show they can handle themselves," Kelly said.
Brian Perkins, 23, is in his first full season aboard Albert Lee Appliances and is also a David protege. He equates sharing the water with the sport's legends to sharing a basketball court with perhaps the best hoopster of all time.
"This has been an all-time dream. I never thought I'd be able to do it," Perkins said, gushing. "It's like playing basketball with Michael Jordan. I get to race boats with Steve David."
Perkins talks with David at least once between each race. The conversations are obviously paying dividends - Perkins finished second to David in last weekend's Columbia Cup.
David Williams, Perkins' teammate and driver of Miss Lakeridge Paving, is 50. He welcomes the youth movement.
"Our audience is kids, teenagers, and young adults," he said. "It's easier for a young adult to identify with a 23-year-old driver than with a 50-year-old driver."
Associated Press