Hanson Brothers make the U-6 Oh Boy! Oberto/Miss Madison go
Posted:
Updated: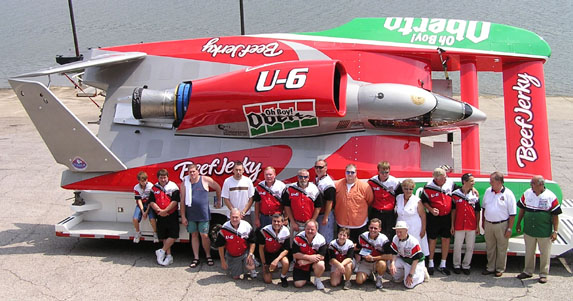 U-6 Oh Boy! Oberto/Miss Madison crew
SEATTLE, Wash - There are the Smother Brothers. Baldwin Brothers. Blue Brothers. Of course the most famous aviation duo, the Wright Brothers.

Hydroplane racing has its own brothers - Mike Hanson (Bonney Lake, Wash.) and Larry Hanson (Auburn, Wash.).

The boat racing duo began in '88 when they went to Baton Rouge, La. to build a hydroplane for John Prevost. Several years later they found themselves working side-by-side on Mike & Lori Jones' U-9 which eventually won the Gold Cup. For the past 16 years they have been on the U-6 Oh Boy! Oberto/Miss Madison team.

"It is quite the combo," Bob Hughes, the team's citizens owner representative said. "Mike runs the boat and Larry makes the motors go fast."

"We have this great continuity between each other," Mike Hanson said when talking about his brother. "We know where are strengths and weakness are and we play off of each other. That makes for a good team," he said.

Mike Hanson (47) who is three years older than Larry Hanson (44) is a former Unlimited driver and is the only crew chief in the pits today that has driving experiences.

Larry Hanson said the most significant memory he has working with his brother was last year when the team won at their home town race -Chevrolet Cup at Seafair. A first for the brothers.

"What a great day, to win at our home town race, with your brother by your side every step of the way," Larry Hanson remembers.

Driver Steve David said, "I know when I leave the dock that Mike and Larry have put every bit of knowledge and skill into giving me the fastest boat possible. Mike's knowledge with the boat's set up and driving experience and Larry's attention to detail with the engine and gear box allows me not to worry. This allows me to concentrate on my race strategy," David said.