Kennewick Drivers Still Talking on Cell Phones
Posted:
Updated: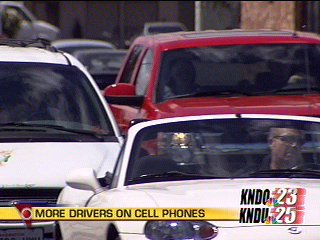 KENNEWICK, Wash.-- July 1st the new hands free cell phone law went into effect. KNDU set up its camera on a street corner to see how many people were breaking the law. August 1st is exactly one month later, and KNDU did the same thing to find out if the numbers had changed.
The number of drivers on cell phones has gone up. In one hour Friday, KNDU counted 51 people holding their cell phones and talking on them. July 1st, the day the law went into effect, KNDU counted only 37. Both times KNDU counted at the corner of Clearwater Avenue and Edison Street for one hour in the early afternoon.
According to KNDU's tally, people don't seem to be following the law, but some do seem to like it. Driver Kelly Duvall says, "I think it's great because I see a lot of people making errors when they're driving. I feel like if they didn't have their hand up on their cell phone, they would be able to pay attention to where they're going and what they're doing better."
One woman says she didn't buy a hands-free set, so she doesn't talk on the phone while driving anymore. Sherry Hayden explains, "I was going to make a phone call yesterday. I was driving and I had to hang up because I was like,'Oh, I can't do that."
However, some drivers say they're just as distracted whether they're holding their phone or using a hands-free headset. Eric Rammelsberg says, "It's not so much what you're doing with your hands that distracts you, as the actual process of talking and listening and being engaged in conversations with someone that's not in the car."
The hands-free law took effect July 1st and it's a secondary offense. That means you can't be pulled over just for talking on a phone. You have to be pulled over for something else before being issued the $124 ticket for driving and talking.