Pacific Northwest University Begins Orientation Week
Posted:
Updated: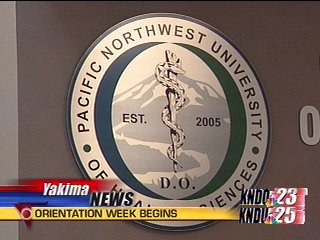 YAKIMA, Wa.- Pacific Northwest University opened its doors to celebrate orientation week.
"It's one big family. Everyone I've met has been so nice," said Jessica Morales, a new medical student.
And it is only the beginning. Classes start next week but until then students are getting to know their faculty, classmates and the facilities.
"Everything we've built and been working on is being field-tested for the first time," said Dr. Stan Flemming, president of Pacific Northwest University.
Seventy five students make up this year's class. The university had over one thousand applicants. Students say the small size is a big reason they chose Pacific Northwest.
"Intimate enough group that we can get to know each other," said Owen Hanley, a new medical student.
Size was not the only concern.
"We can now very actively address the growing short fall of physicians in the Pacific Northwest," said Flemming.
Thirty eight counties in Washington are under-served in healthcare. Yakima is one of them but the university hopes to change that.
"Compassionate, caring, committed physicians who put their patients first, their families first, their colleagues first and themselves last," said Flemming.
Dr. Flemming says their students will be ambassadors for healthcare and for Yakima.
"When we walked in the door they said listen to your patients... I'm going to take that to heart," said Hanley.