Within 10 Hours Two Explosion Kill Two People in Moses Lake
Posted:
Updated: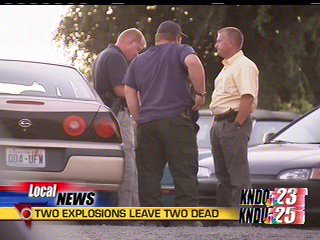 MOSES LAKE, Wash-- Within ten hours two separate explosions killed two people. Three FBI teams have traveled to Moses Lake to help with the investigation.

Investigators haven't said the incidents are linked, but they're very suspicious. They say two weeks ago a pipe bomb destroyed a pick-up truck near Soap Lake. Then on Aug. 2nd a man found his 69-year-old grandfather face down dead in his shop outside Moses Lake.

Grant County Sheriff's Deputies say some how he received wounds to his neck and chest from an explosion.

The next day another 53-year-old Moses Lake man was found dead on the floor of his kitchen with wounds to his chest and stomach. When deputies arrived at the scene they smelled sulfur and found pipe bomb making materials. They used a nitrate sniffing dog from Hanford Patrol to help find evidence.

"We are not investigating a murder, this is solely an investigation of why there are three explosions within ten days of each other and we have two deceased individuals," said John Turley, Grant County Undersheriff.

FBI teams searched the home of the 53-year-old victim for more than 14 hours finding methamphetamine in addition to bomb making materials.

Today the Grant County Coroner did an autopsy on both bodies to determine the cause of the death. Along with the explosions, the sheriff's office is concerned about recent gang activity, drive-by shootings, and other violent crimes throughout Grant County. They've reactivated a block watch program.