Hydro Enthusiasts Build Miniature Versions that Pack a Punch
Posted:
Updated: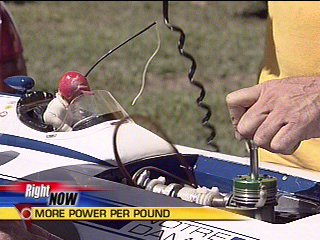 GRANGER, Wash-- These R/C boats are one-eighth the size of the real hydro's. But they are exact duplicates of the life-size boats, with every small detail accounted for matching colors, graphics, even the drivers.
The amount of time and effort that goes into building one of these mini-hydro's is pretty impressive.
"It's a lot of fun to watch. It's pretty good fun to watch, but it's a kick in the pants to be in the game. It's just too much fun," said Mark Connelly, hydro racer.
Today was the perfect setting for a hydro race at Hisey Park in Granger. The wind was quiet and the water smooth. Like these hydro's, the chances of a crash are pretty small.
"We have accidents and roll-overs, but we've never lost a driver yet," said Chester Lepinski, hydro racer.
"These boats are going way faster in proportion than their unlimited counterparts," said Connelly.
The engines push at about four horse power and with the boat weighing 15-pounds, this equals some serious speed. One heat in the mini-hydro races last a minute.
"Compared to the full size boats it's probably got 4 to 5 times the power to weight ratio," said Connelly.
Learning to drive a mini-hydro takes time and skill. Winners of the race go home with medals to add to plaques and bragging rights.
The mini-hydros race from April to October.
The friendly competition brought out 15 different boats and their pit crews. Today's races are dedicated to the memory of Roger Newton who started the club in 1974.