'Tropic Thunder' Opens Amidst Controversy
Ben Stiller Comedy Not Getting All Laughs
Posted:
Updated: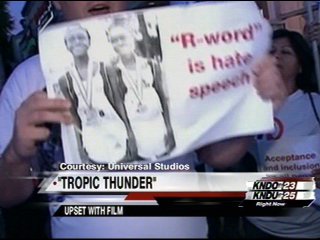 KENNEWICK, Wash-- Writer-director and funny man Ben Stiller's newest comedy 'Tropic Thunder' is receiving mixed reviews.
Several developmental disability groups are protesting and boycotting the film because it repeatedly uses the "R-word," or retard.
Discontent with the film finds roots locally as well as nationally. Tri-Cities Residential Services in Kennewick, which works with those living with developmental disabilities, calls the film degrading. Program director Cindy Fransen is one of several put off by the film. She wishes the studio did not portray the developmentally disabled in a negative light. She says like anyone else, those living with developmental disorders live a normal life.
Cory Mowen, a local man living with a developmental disorder, spoke with KNDU news. He says the film's use of the "R-word" is hurtful; he was made fun of growing up in that same fashion. He, like Cindy, says the studio shouldn't paint negative stereotypes. "We're all equal," Mowen says. He continues, "[the film] makes society look down on us more than they already do."
The controversy began when DreamWorks Studio put up a website about a film within the film, in which Stiller plays a mentally disabled farmhand with the hope of winning a big time award. What has people upset is the tagline for that film, which reads 'Once Upon a Time...There Was a Retard.'
The website was quickly down after a storm of protests reached the studio. But the studio says it's all being taken out of context; that the film is not targeting the developmentally disabled, but instead the film industry.
KNDU contacted DreamWorks Studio, who released a statement in part reading: "'Tropic Thunder' is an R-rated comedy that satirizes Hollywood...The film is in no way meant to disparage or harm the image of individuals with disabilities."'
After listening to protestors, the studio decided not to make any changes to the final cut of the film. Cory says that was another move by the studio that hurt him.
KNDU News wants your opinion: should the studio have made cuts after listening to the protestors? You can vote 'yes', 'no', or simply 'don't care.' You're also advised to post comments regarding the decision by the studio.