1,000 Customers Affected By Richland Power Outage
Posted:
Updated: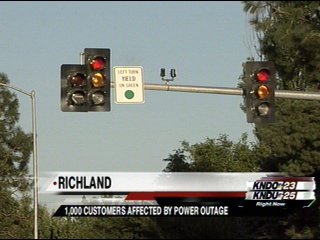 RICHLAND, Wash.--KNDU staff spoke with Ray Sieler, Director of Richland's Energy Services, Friday (August 15th) night.
Sieler says the problem originated with one of the main feeders or "distribution lines" at the Tapteal substation located in Badger Mountain Park.
Apparently, there was a fault in the system and it couldn't reset itself.
Instead, it simply shutdown and every customer on that line lost power.
The system, Sieler adds, was gradually restored to normal.
Customers without power were shifted onto another distribution line.
The outage primarily involved homes and businesses west of Leslie Road.
Around 4:30 p.m. Friday afternoon, traffic lights were out on Gage Boulevard.
Businesses such as the Shell gas station, Walgreens, Blockbuster were all affected.
The loss of power even forced the local Starbucks to temporarily close its doors.
Homeowners KNDU spoke to say they cannot take energy for granted.
"We just depend so much on electrical power to keep things cool and it's kind of an eye-opener of some things we need to be prepared for," says homeowner Pat Edvalson. We need to be prepared for events such as this."
"It made us think about our air conditioning when it was off," mentions homeowner Christine Young."
Richland Energy Services staff say power was out for around three hours.
An investigation is underway to prevent a similar situation from ever happening again.