Yakima's Gang Enforcement Unit Gets Their Man
Posted:
Updated: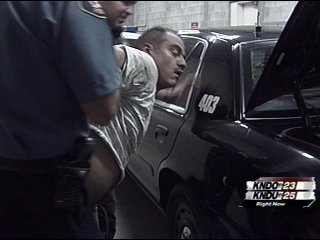 YAKIMA, Wash- The Gang Unit was started in 2004. They're a hand selected team that wears black uniforms, drives black cars and uses the darkness of the night to go after gang members.
"It's kinda slow," says Officer Tarrin Miller. Just as Miller complains about the quite evening we get the call and seconds later officers are speeding after a wanted gang member. Arresting on average two to five people a day, the gang unit stays busy.
"He could be armed be careful," radioed Sgt. Joe Salinas.
After chasing the black El Camino at over 100 mph the suspect runs on foot. Salinas and Sgt. Shawn Boyle catch him as he tries to hop a fence. They cuff him and during the scuffle the suspect bites Boyle.
"Was it worth it man?" asked Salinas as they get ready to take him in to custody "He bit you?" asked Miller as she arrived to help.
"He didn't want to go to jail and in this line of work it's our job to put him in jail and it's the bad guys job to get away. And we did our job a little better tonight," said Salinas.
"There's a lot of satisfaction in catching this gentleman. Apparently he'd talked about getting away from the police. And how the police department couldn't catch him and I guess we showed we were able to take him into custody tonight," said Boyle.
"When you run from the cops you just go to jail tired," said Salinas as he and another officer unload the suspect at Yakima County Jail.
"It's all worth it in the end. We got our guy and go onto the next one," said Salinas. He also added that now there will be a lot of paperwork to do.
Besides helping to stop criminal activity many G-Unit officers have gone above and beyond the call of duty, helping to get gang members out of gangs.