Young Minority Students Conduct Phosphate Experiment
Posted:
Updated: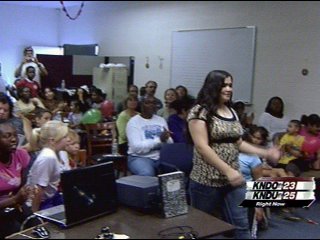 KENNEWICK, Wash.--Ask most 13 or 14-year-old's what Phosphate (salt of phosphoric acid) is and they'll likely tell you it's a cartoon character.
Ask two students at a Kennewick non-profit and you'll get an educated answer.
14-year-old Tammana Mohammad and 13-year-old Ekelemchi Okemgbo are students at Skills Development Mission, Incorporated or SDM.
Both are took part in SDM's Minority Science Research Mentoring internship.
The mentoring program encourages minority high school students to pursue science related careers.
This non-profit Christian organization empowers under-privileged, under-skilled and low-income minority children to maximize their potential.
Mohammad and Okemgbo measured phosphate levels in 14 dishwashing detergents on the market.
They also took water samples from the Columbia, Snake and Yakima Rivers to gauge the impact phosphate has on the environment.
One young scientist says soap companies can sometimes be slippery with details.
"They don't tell the truth," mentions Tammana Mohammad, incoming freshman at Richland High School . They lie and say this soap has no phosphate, but when we checked, it had more than 10 or more than 15 milligrams."
"Once it (phosphate) goes into the lakes and rivers, more algae grows which turns the rivers green and that's not good," says Ekelemchi Okemgbo, freshman at Hanford High School.
Both students spent time learning how to perform these experiments with professors at WSU Tri-Cities.
Their test results found 10 milligrams (mg) of phosphate per liter of water tested.
50 milligrams is when Okemgbo and Mohammad says the public should start to worry.