A New Community Center for the Yakama Tribal Nation
Posted:
Updated: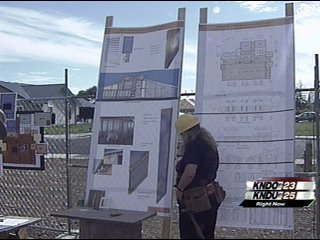 WAPATO, Wash.--University of Washington students are hard at work designing a community center for the Yakama Nation. The community center is in the Adams View-Shix Neet neighborhood near Wapato. Nation leaders say it will be an education and cultural focal point. The center's foundation is in place. The community center will have classrooms, computer labs, and a daycare center. Yakama Nation leaders think the center will unify the community.
"We need a place where people can get together," said Tony Washines, a member of the Yakama Nation Housing Authority Board. "That's part of our community."
The University of Washington students kept that in mind during the planning stage.
"Sustaining design and sustaining culture really make community," said graduate student Ashle Fauvre.
However, it is not just about culture. There are about 175 kids in the community, and not many places they can play. The community center will change that.
" [It will] give children a place to have a playground and learning center," said Washines. "They can come together and get to know one another."
"I just imagine when it's a real facility and they're not playing on mounds of dirt," [on the construction site] said Fauvre.
Students and teachers finishing up their part of the construction. Next week, Yakama Nation carpenters will take charge until the design build program students return next summer. Fauvre said she has benefitted in many ways by participating in the project.
"I'm making an impact and getting really good skills in terms of learning things and leading people."
Washines has high hopes for the center.
"Hopefully this'll be the start of something long-lasting and positive for our community."
The center will be about 6000 square feet and can be expanded upon.