Law Enforcement from Across the State Pay Respect to Sgt. Nelson Ng
Posted:
Updated: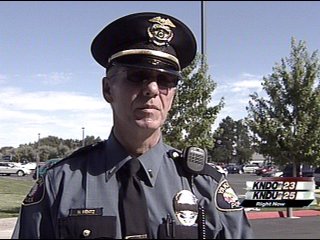 ELLENSBURG, Wash--The turnout today at Ellensburg High School was truly impressive. It is clear that in Sergeant Nelson Ng's short 34 years he made an impression.
Tears and laughter were shared today by about a thousand people, a third of which were law enforcement from across the state. Paying tribute to one of their own.
Across Ellensburg flags stand at half mast, a community shaken by the loss of Sgt. Ng.
"The community today lost a great great member, Nelson was a friend a good friend to the families of this community, to Ellensburg," said Marian Lien.
Ng leaves behind his wife and college sweetheart, Anna, along with their daughter, Elise. Recently promoted to Sergeant Ng's career in law enforcement began while attending Central Washington University.

"It's very good to see this many officers show their support for Ellensburg and the Ng family," Lt. Nolan Wentz, YPD, adding, "This isn't some name that someone has seen on a plaque somewhere. This is a person that everyone knew extremely well."
Ng died of the rare Hantavirus Pulmonary Syndrome, which is transmitted through dust exposed to mouse droppings. The Center for Disease Control and Prevention says the virus cannot be transferred human to human. It's likely Ng came into contact with the virus at an Ellensburg firing range.
"Nelson was such a healthy young man. To be taken at the height of his career is a shock for the family as well as the community," said Lien.
Currently, the Kittitas County Public Health Department is trying to pin-point the exact location Ng came into contact with the virus.
A scholarship has been set up in his name for the Ellensburg Christian School.