Grand Opening for Granger Community Center
Posted:
Updated: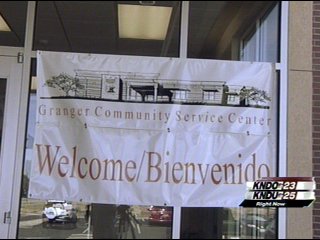 GRANGER--Tearing down the old KDNA radio station in Granger marked the end of an era. The grand opening of the Northwest Community Education Center marks the start of another. KDNA employees are thrilled to go on the air in nice new offices. But outgoing Executive Director Ricardo Garcia explains radio is not the only reason for the center.

"[It's] a center where people can receive a variety of social services," said Garcia
Today is Garcia's last day on the job. He is retiring after working for years to bring this center to Granger. A former employee is glad to see garcia succeed.
"It's Ricardo's dream," said Berta Balli. "It's been his dream for a long time. I just see a lot of positives coming out of this, especially community unity."

Both the old and new directors hope the center can do more for Granger.

"A place that's more conducive to planning, and is the best way to provide services."

"We want to continue to have an impact with our communities," said new Executive Director Maria Fernandez.
Much of the center is devoted to helping immigrants and working-class people. A new computer lab will teach farmers how to use technology. A larger room can be used for public meetings or split into classrooms with dividers. The center will hold citizenship and English as a second language classes. Fernandez hopes the new center becomes a place people always want to visit.

"We want the facilities to be active [from] morning into [the] evening time."
Garcia said the center is 98 percent finished. Basically all that is left to build is a cultural plaza that will be in front of the building. The plaza will have a gazebo and ampitheatre where citizens can rest, relax or watch performances. Construction on the center will commence in the spring.