Health District Says It's Safe to Buy Produce From Fruit Stands
Posted:
Updated: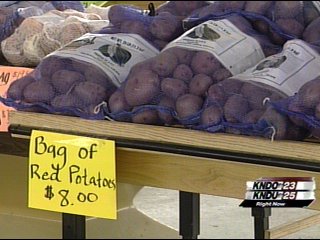 PASCO, Wash.-- With the price of food going up in stores, a fruit stand may be the way to go.
$8 for a large bag of potatoes, a $1.99 for a pound of green beans, and three cucumbers for $1.00, are all prices you usually don't see in the stores. But is it safe?
"I don't have the fuel or freight like the grocery store does," said Willis Schinkelshoek, who owns the fruit stand on Court Street in Pasco.
The owner of the Cool Slice fruit stand in Pasco says his products are fresh daily.
"We try to pick it really close to what we're going to use for that day, and then at the end of the day we'll toss it and start over real fresh the next morning," said Schinkelshoek.
The Benton County Health District says as long as the fruit or vegetables are not sliced, then they can be sold on the streets.
"Since it's farm direct, I can sell direct, there isn't a government agency involved," said Schinkelshoek.
Something the Health District calls a farmer's exemption, and many people are taking advantage.
"The grocery store just can't compete with the fresh produce, that's the number one thing people say they come for, they drive from Benton City and Finley just because it's fresh," said Kourtney Hawk, who works at the fruit stand.
Hawk has worked at this fruit stand for six years and says their produce is a guaranteed buy.
"So if people are dissatisfied and they come back and say I wasn't happy with the watermelon, we'll give them another one so they can try again," said Hawk.