Two Richland School Are Part Of Washington's Green Schools
Posted:
Updated: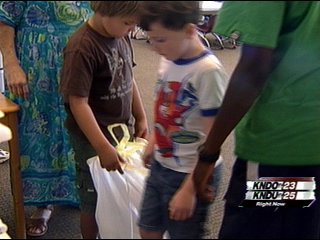 RICHLAND, Wash.-- Oasis school in Richland is one of two, helping the environment by trying to make their students go green, with something as simple as bringing a cloth napkin as opposed to a paper one.
"We don't have to use paper towels and throw them away," said Jonathan Wright, a student at Oasis School.
Besides cloth napkins, the school is also very careful about their recycling. Labeling their waste in plastic, paper, and compost.
"Just trying to protect the environment that's all," said Rolland Curtis, another student at Oasis.
But before taking the trash out students weigh the waste.
"What we do is weigh our garbage and we see how much we have that way we can reduce our garbage outcome," said Curtis.
School staff say going green can go a long way.
"When you involve kids in recycling programs, and composting programs, the kids feel very empowered and then they can take that home and they insist that at home it can be done," said Miriam Kerzner, Director at Oasis.
Oasis school is not alone in their quest for green. River's Edge High School students are also recycling.
"There's a lot of people that just love to help every time that everybody is out recycling, everybody is helping everybody," said Sam Wright, a student at River's Edge High.
But they're also making some other efforts.
"We have native plants, do you don't have to waste as much water, watering the plants," said Keica Martin, another student at River's Edge High.
Many River's Edge students turn the recycling in for money. The cash goes back to the school.
"So it's not only helping the environment, it's also helping the school out, raising money to do more stuff," said Tim Hopkins, another student at River's Edge High.