Mother of 10-Year-Old Girl Killed In A Car Accident Speaks Out Friday About Her Loss
Posted:
Updated: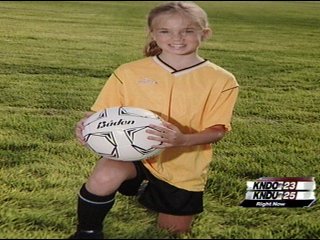 PASCO, Wash. - Losing a child is every parent's worst nightmare and now Sharon Woodbury is living that reality.
Sharon's co-workers created pink and black ribbons is in memory of 10-year-old Nicole Woodbury.
The little girl was killed in a car accident after a motorcycle collided with her dad's car. The motorcycle rider was also killed.
Sharon spoke to KNDU Friday night about her pain that is so strong only someone who has lost a child can understand.
Her long blond hair and irreplaceable big smile seem almost angelic in the pictures surrounding the family room.
A white piece of construction paper lies on the coffee table decorated with colorful love notes that Nicole recently wrote to her mother. The notes are tokens of affection that Nicole would constantly hide throughout the house to show her mother how much she loved her.
But now the "I love you Mommy" note are a reminder of the loss this family feels and the reality that there won't be anymore hidden throughout the house.
Sharon said, "People really need to know that life is short. Love your kids. Hug them everyday. You don't know when something like this is going to happen to you... I am going to miss her so much."
A tragic, unexpected accident at the intersection of Taylor Flats and Selph Landing in Pasco on Tuesday took the young girls life.
A motorcycle crashed into a car, Nicole and her father were riding in.
Sharon said, "I only had her for 10 years and I wanted to see her grow up. I wanted to see her graduate. I wanted to see her go to the prom."
Nicole won 25 dollars at school after selling the most for a fundraiser. Nicole loved to watch American Idol. It was a tradition that her and her mother would do together. While watching American Idol a fundraising project called Idol Gives Back caught the eye of the young girl.
Without her mother knowing, Nicole went online and donated the money she won at school to help people with AIDS.
Sharon said, "And I asked her why did you give all your money away. She said she wanted to help those people and said that she didn't need the money. She was so beautiful and caring about other people. She wanted to make a difference in the world. She wanted to recycle . She wanted to do all those things you don't think little kids care about."
And it wasn't just people Nicole cared so deeply about. Sharon said, "She wanted to be a zoo keeper so she could take care of all the animals."
She said, "She was a ray of sunshine to everyone that knew her and everyone will remember her like, that little girl with the long blond hair and the big smile."
Nicole's family has set up a Memorial Fund at all Community First Banks. Donations are being collected to help family pay for expenses.
Nicole's father, Jeff Woodbury was driving the car during the time of the accident. He remains in stable condition at Lourdes Medical Center Friday.
A memorial service will be scheduled as soon as Jeff is out of the hospital.