Man Stabbed to Death on E Street
Posted:
Updated: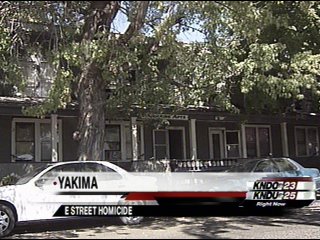 YAKIMA--One man is dead after an early-morning altercation on the 200 block of East E Street.
Steven Sterling, 46, was stabbed to death outside the Parkside Apartments in Yakima at around 3:15 a.m. Saturday. Witnesses say Sterling and another man were arguing outside the apartment building and then began physically fighting. The man pulled out a knife and stabbed Sterling once in the chest.
Sterling made it into an apartment and alerted neighbors, who called police. He was taken to Yakima Regional Hospital, but died shortly after arrival.
Witnesses described a chilling scene at the Parkside apartments.
"[Sterling] said, 'I been stabbed, I been stabbed,' and there was blood all over," said one witness who did not want to be identified. "A friend of mine called 911."
Witnesses were able to give police descriptions that narrow down who the killer may be.
"What we're lacking thus far though is solid identification on the suspect," Captain Greg Copeland said. "We have some info about who he is but it's not developed enough that we can get an arrest warrant for him."
Police are not sure who started the argument, or what is was about. They have not found the knife Sterling was stabbed with.
Witnesses describe the suspect as a 40-year old black man. They say he is about five-feet nine-inches tall and weighs about 190 pounds. His hair may have been pulled back into a ponytail. Witnesses say he was wearing a blue shirt with blue jeans. The jeans might have been cutoffs. Anyone with information should call Yakima police.