Untimely Sidewalk Construction Crumbles Business Plans
Posted:
Updated: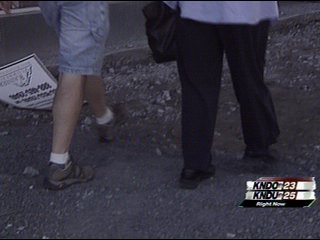 YAKIMA--If you're running a business, the last thing you want is a location that's hard to get to. The Red Gallery in Yakima doesn't normally have that problem. Yesterday, however, wasn't a normal day.
When they opened they found a construction crew tearing up the sidewalk in front of the gallery. Mindy Clark owns The Red Gallery. She knew the work was scheduled and had been trying since April to find out when construction would start. She found out, but not until it was too late. The construction's expected to take three weeks. Now everything the gallery had planned for September may be a waste.
"I'm not just losing money from not getting people," Clark said. "I'm losing money from marketing and printing and advertising that needed to be done to get ready for September."

The Red Gallery held one of its biggest events of the year last night, but the construction scared off many potential customers. Clark also says her morning art class had much less people than normal because of the sidewalk situation. She thinks the construction cost her about 100 dollars because people were scared off by the work. That may not seem like much, but for a small business owner like Clark every penny matters.
The city of Yakima and the construction company did do their best to help the gallery when they realized there was only one entrance and the construction was severely hurting business.