Benton County Sheriff Makes Arrests for a Good Cause
Posted:
Updated: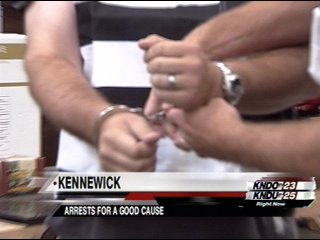 KENNEWICK, Wash-- The Benton County Sheriff himself makes some arrests at Ranch and Home, but for a good cause.

Sheriff Larry Taylor made the arrests for the March of Dimes. The charity was throwing people in jail, but it was a fake jail. In order to post bail they had to raise money by making calls to friends. Each inmate wore prison attire like this while they sat in the slammer.

KNDU followed Sheriff Taylor around as he went on his mission, which was to arrest the owners of the store and take them to jail. He's helping raise money for the March of Dimes which supports premature babies.
"If there's anything that we as a society can do to help prevent birth defects you know that's what it's all about we're all standing up together," said Taylor

The Dress family, which owns Ranch and Home, made mean faces for the camera as they took turns taking mug shots. They have a history of helping out the community since opening in 1979.
"We just try to do what we think is good for the community we try to do a lot of different things," said Bill Dress, Owner of Ranch and Home.

Premature birth affects about half a million babies each year and can lead to lifelong disabilities.
"We get on the phone call all our friends and family then tell them we need bail money to get out of jail," said Dress.
The bail is helping save the lives of infants everyday and is a fun way to go about raising the money. The Sheriff even got to make an arrest at one of his favorite stores.
"I love going there myself because I'm 6'ft 6" and it's easy for me to find clothing that's my size that's the right length in pants and in arm length," said Taylor.
The 2008 jail and bail goal is to raise $60,000. The event will continue at the Hampton Inn in Richland through September 11th.