Man Stabs Dog After Child Gets Bitten in Pasco
Posted:
Updated: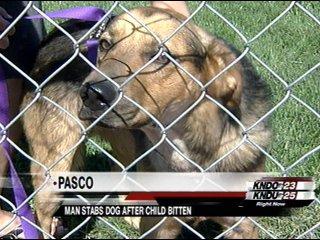 PASCO, Wash.-- The Cuevas family lives on the 1500 Block of West Shoshone Street in Pasco. They say on Friday night a man attacked their 1 year old German Sheppard.
Police say there was a 7 year old victim who was bitten by the dog earlier that day. That incident might have been what started the attack.
Elizette Cuevas is glad to have her Guardian back at home. Guardian has been the family dog for a year, but last Friday he spent four hours in surgery after being stabbed.
"And he was right here with the dog when I came out, the dog was laying right there bleeding, that why there's blood there still," said Cuevas.
Blood that looked like this on the door and floor on the night it happened. Cuevas says it was a friend of the family who lives down the street who stabbed her dog.
"Nobody has come out to see how the dog is doing, they all saw us come out with the dog bleeding," said Cuevas.
We talked to the woman who lives down the street. She says the dog bit her nephew.
"It was definitely a dog bite, he has two bite marks on his back and the police took pictures of it," said Ann Jones Clark, the neighbor who lives down the street.
Pasco police confirmed there was a 7 year old boy bitten that day. But are still investigating the case. Jones says she had no idea the dog had been stabbed.
"I don't think it should have been taken that far, I think we as adults should have been able to get it worked out," said Jones.
But after nearly $3,000 in surgery, Cuevas wants justice.
"It's not fair people coming into your yard and doing this stuff, then you have to pay the cost, plus it's your animal," said Jones.
Police are still trying to identify the man who the family says stabbed their dog. Once that happens the case will be forwarded to the City Attorney's office.
The man could face misdemeanor charges, of trespassing and animal cruelty.