Police Looking For 10 Feet Tall Inflatable Duck Stolen From Parking Lot In Kennewick
Posted:
Updated: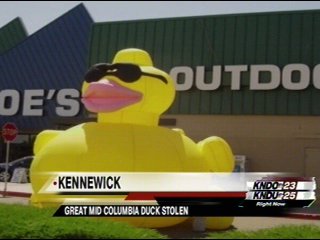 KENNEWICK, Wash.-- It's all ducks to the rescue. The Great Mid Columbia Duck is on the loose!
The inflatable fowl was stolen from the Joe's Sporting Goods store in Kennewick beteween Tuesday night and Wednesday morning.
"We were having the duck sit right here in the parking lot when it's inflated, and it got taken down and we've been put right here on the island," said Loy Hibbs, store manager at Joe's Sporting Goods in Kennewick.
The duck stands 10 feet tall and 15 feet wide, wearing sunglasses. But it didn't look like that on the night of the crime.
"It wasn't inflated, it was flat and stuck in a small space so it someone who knew it was here and came specifically to get it," said Hibbs.
Knowing the icon for the yearly Mid-Columbia Duck Race has gone missing, has people quacking.
"You can't exactly inflate it and not have people notice you have a big giant duck in your backyard," said Anthony Davis, from Kennewick.
"They can have it chillin on their pool or something," said Steve Swoboda, from Richland.
"Oh I think it's sad, my daughter comes here and hug it," said Lucy Sauter, from Kennewick.
"This is for a good cause, so somebody stealing a duck is like stealing from a good cause," said Linda Cone, from Kennewick.
Crime stoppers is looking for the fowl thief, and one lucky duck could waddle away with $1,000 in reward money. The Tri-Cities Rotary Club says they hope it's all a prank.
"This was just a little overnighter game and that this thing would secretly show up," said Terry Fleischman, with the Tri-Cities Rotary Club.
But the duck hunt could end up with the pranksters behind bars.
"It would be a felony, anything over $250 is a felony," said Mike Blatman, with the Kennewick Police Department.
One thing for certain, most people hope the duck finds its way back.
"I just want the duck back, if they find the person who did it great, but i'd just like someone to bring the duck back," said Hibbs.