Missing Duck Comes Home
Posted:
Updated: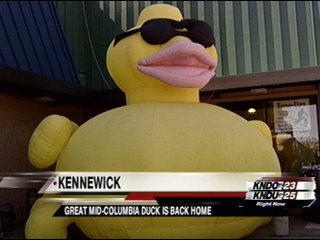 KENNEWICK, Wash-- It's back to normal at Joe's Sporting Goods in Kennewick. The good news is the fowl has been found.
The ten-foot colossal yellow duck was plucked from his home late Tuesday night. He was reported missing on Wednesday. But today, he is back, standing taller than ever.
A passerby spotted the yellow icon behind a restaurant and immediately called police. Both the store owner and shoppers are glad the duck hasn't flown far from the coop, and is resting back at home.
"The duck means a lot," says store manager Loy Hibbs. "This is a community icon and it's about charity, it's about taking care of people who are less fortunate in our community, and I'm just glad to see the support the community had in bringing the duck back."
The duck has been standing tall for 20 years. Crime stoppers had posted a reward of one-thousand dollars for a conviction in the case. Since the thief still remains a mystery, the person who found the inflatable duck will likely not get the reward. But Hibbs says he wants to pay a special thank-you, and give his own reward to the finder of the fowl.
Hibbs also says he will be sure the duck is taken inside every night, so it remains safe at home.