Watch out for Fake Orchard Checks
Posted:
Updated: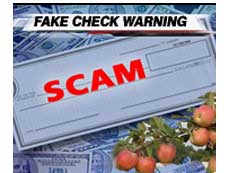 TRI-CITIES, Wash-- A warning to be on the lookout for a certain type of fake checks. As harvest season starts the Better Business Bureau says counterfeit orchard checks may start popping up.

Bank employees need to make sure they're checking identification and looking for anything unusual on the check. As apples and other crops begin to be harvested fake checks are prevalent throughout our region.

The fake checks are computer generated. They look very much like the original issuer's check. Scammers may also try to bribe random people to cash the checks for them.

The person cashing the check is usually given a cut and has little information about where the check came from. If someone asks you to cash a check for them call police.

"The reason this happens every year is they know they can find places merchants or banks who will cash a check and not verify identification. They are rolling the dice seeing where they can make it happen. They are playing the odds they know that somebody will and some won't and they are hoping enough will to make it profitable for them," said Sgt. Ken Lattin, Kennewick Police Department.

If you are not sure who the person is call the issuing bank and verify that it's a valid check. Police say never feel like you are inconveniencing a customer by asking for identification.