U-6 Oh Boy! Oberto races for National High Points title in Unlimited Hydroplane finale in San Diego
Posted:
Updated: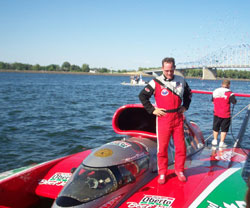 SAN DIEGO, Cali. - For the past few years, Steve David (Lighthouse Pt., Fla.) and the U-6 Oh Boy! Oberto unlimited hydroplane racing team have been poised to give the City of Madison, Ind. owned team an ABRA national high point team championship. The key word is poised.
This weekend, David and his crew chief Mike Hanson will be keeping their fingers crossed as this time the U-6 team needs to find a way to stay afloat on Mission Bay and finish a few heats during this weekend's San Diego Bayfair powered by the Union Tribune to capture its first team title. The Oh Boy! Oberto has placed either first or second in virtually every heat this year including winning the Columbia Cup in Tri-Cities. They return to San Diego as the defending champion
"I'm sure Mike will be chewing his finger nails every time we go out there," said David. "We need to make sure the boat goes out and then comes back with some points in every heat."
David knows the national title means everything for the City of Madison, Ind. since the small southern Indiana, Ohio River Valley town first put a boat on the circuit in 1961. Now, with 1023 point over the second place U-37 Miss Beacon Plumbing driven by Jean Theoret (Montreal, Que.) and 1089 over the third place U-5 FormulaBoats.com driven by Jeff Bernard (Kent, Wash.), the question isn't can the Oberto win the race, can it just finish its heats?
"I have talked to some of my friends in auto racing who have won their national high point titles and asked them what they were thinking going into their final race of the season," said David. "Yes. We would like to win the race but the first thing on our mind is to win the title."
With a nine boat field ready for the season finale on the 2 ½ mile salt water course, David, who has won the driver title three of the last four years, knows the team title could set off quite a celebration back in Madison.
"I have enjoyed driving for this team and for the City of Madison," said David. "To win this for them and the Oberto family would truly mean that nice guys can finish first."
Qualifying begins Friday morning with racing starting on Saturday and more elimination heat plus the final on Sunday afternoon.
For ticket and more information on the 42nd running of the unlimited hydroplanes on Mission Bay, go to www.sandiegobayfair.org or call 206-321-3383.
SOURCE: ABRA