Bass Boats Can Go Up To 80 Miles Per Hour
Posted:
Updated: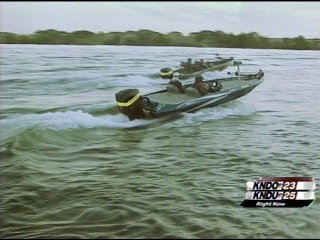 RICHLAND, Wash.-- Bass fishing to win the million dollar prize and beat the clock, means anglers need to go as fast as possible.
"They run probably the biggest engine they can, 250 to 300 horse power engines on those boats," Dennis Redmond, at Northwest Marine and Sports.
Staff at Northwest Marine and Sports say a regular aluminum or fiber glass boat wouldn't work for bass fishing, simply because it doesn't go as fast on the water.
"The reason why they go so fast is because they have to get from point a to point b, and it gives them a little more versatility to travel the river, and get more fishing time in during the tournament," said Redmond.
Redmond says most bass boat sales in the Tri-Cities come from Nixon's Marine in Walla Walla. The owner of Nixon's Marine tells us bass boats usually travel at speeds higher than 50 mph.
"The average is probably 65 to 70 mph," said Jeff Priester, owner of Nixon's Marine in Walla Walla.
And most times the higher the speed, the better.
"This water here is not speed regulated, so it's whatever your boat will run," said Priester.
A run that threw one angler off his boat going 75 mph. Gabe Bolivar suffered minor injuries and was taken to a hospital.
"He had a combination of things that created the accident," said Priester.
But boat experts say if he wasn't careful, he could've been in for a bigger wreck.
"If you're doing 70mph and you fly out of a boat it's like concrete, like rolling down concrete, it's extremely hard, so he was pretty fortunate not to get hurt worse than what he did," said Redmond.