Two People Shot Near Grandview High School Friday Night
Posted:
Updated: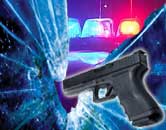 GRANDVIEW, Wash. - Two teenagers were shot in a drive-by shooting near Grandview High School Friday night. Witnesses said a burgundy SUV--possibly a Ford Explorer--fired shots from two different weapons at a group of people in the yard at 500 Hillcrest Street at about 9:15 p.m.
Police say they have a few leads, but no suspects. The victims were taken to Sunnyside Community Hospital. One was treated and released and the other Boy is now at Harborview Medical Center in Seattle. His injury does not appear to be life-threatening. Police say both victims have ties to gangs.
Neighbors said gang activity often goes on in and around the house. Police found a marijuana plant, a rifle, possible dried marijuana and possible cocaine inside the house. The Washington State Crime Lab is testing the items that were confiscated from 500 Hillcrest Street. Charges may be filed against the homeowners.
T.J. Hecker is a senior at Grandview High School who was at the Grandview football game a few hundred yards from where the drive-by took place. He was among the people forced to stay at the game when it went under lockdown for about an hour Friday night after the shooting. Along with some friends, he's organizing a sit-in on Monday morning to try to convince people to end the violence in Grandview.
"I really don't think we need that in our community," Hecker said. "I really don't think that us, as students, during a football game when we're supposed to be having fun, should have to deal with that."
The sit-in will be 7 a.m. Monday at the flagpole at Grandview High. Those attending are encouraged to wear white.