Staples Needs More Signatures
Posted:
Updated: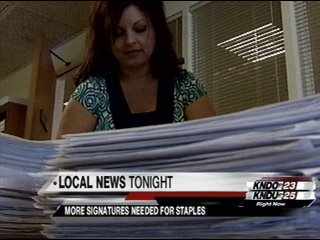 KENNEWICK, Wash-- Retired judge Fred Staples' effort to move the county seat from Prosser to Kennewick has hit a bump in the road.
Earlier this week it appeared Staples had won round one by collecting enough signatures to pose the question of moving the seat on the 2010 ballot.
But not so fast.
Staples thought he needed the signatures of one-third of last year's general election voters' to reach the ballot. That figure came out to roughly 14,000 signatures. To be safe, Staples collected over 18,000.
But Staples has recently learned of a new roadblock: in order to reach the 2010 ballot, the amount of signatures needed has to be based on the previous general election of county officers. That means this year's election and not last year's.
Despite the setback, Staples says he's going to keep moving forward with the issue.
"Now I'm going to be tied to the number in the upcoming election, which is going to be a greater number," says Staples. "So now I have got to get more signatures. Keep on going! There's no turning back when you're halfway across the river."

Staples won't know how many signatures are needed until after November's election. But the signatures he has already collected will carry over as long as the people are still registered voters.