Apple Harvesters Get To Work In Cowiche
Posted:
Updated: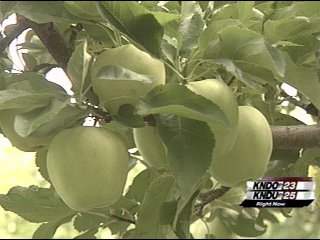 COWICHE--Apple harvest season is underway across the Yakima Valley. While our cool spring may lead to a shortage of apples, one thing orchardists aren't lacking is help with the harvest.
At Strand-Allen Apples in Cowiche they started harvesting Golden Delicious apples yesterday. Being at higher elevations pushes back harvest time for orchards in places like Cowiche and Tieton. Golden Delicious apples are being harvested later than normal. Considering the cold spring, late is better than never.

"We're really happy to have these apples that are on the tree," Strand-Allen Vice President Bob Allen said. "There was a time we thought we might be losing them all."

Allen hopes this harvest can make up for previous lean years.

"Out of the last 15 years, I'd say 13 of them have been less than adequate to cover growing costs."
Even during tough times, Strand-Allen rarely has problems finding help. He thinks the influx of people to work the fields helps more than just the orchards.
"They've been a great addition to the Washington economy and are rapidly assimilating into the economy in every regard," Allen said.
Allen has one foreman who's worked his way up the ranks.
"I used to pick like everybody else do," Arturo Gonzalez said. "I used to pick [apples] for seven dollars a bin."
Gonzalez leads the crews that pick the 12,000 apples Strand-Allen harvests yearly. He has a crew of about 30 pickers. He says about 25 percent of their workers are new each year but added that they never have trouble finding people. Harvesting can be long, hard work.
"We get up very early," Gonzalez said. "Sometimes it's dark and we're still working."
Gonzalez immigrated here from Mexico in 1979. He's been working the fields most of that time, and even met his wife there.
"This is my life. This is my place right here."