How the Bailout Could affect the Tri-Cities
Posted:
Updated: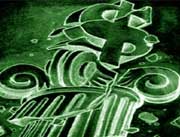 Congress still has not reached an agreement on the $700 billion bailout. KNDU talked to a local economist to see how the financial crisis could affect the Tri-Cities.

As Congress continues to debate the bailout most people are wondering how this will affect their bank accounts.

"I think this is going to put a big burden on the tax payers that's what i think," said Sandra Orpet, who is nervous about the bailout.

No one knows what the impact could be, but economists say we have not experienced the worst yet.

"I think very clearly we are going into a recession and as a friend of mine put it, it won't be the regular folks who are going to suffer. It will be people who are already on the margin. Right now we have a poverty rate of about 12%. It will probably go higher," said Dean Schau, Columbia Basin College Economics Professor.

Schau see's the problem going away once people stop over spending.

"I think people should focus on friends and family and those things that make people truly gratified," said Schau.
The National Debt is so high broken down there's about $30,000 per person of debt.

"I think the Tri-Cities will be okay, but there will be some changes and people will have to slow down on spending," said Leah Steelman, whose concerned about the bailout.

Spending the government may be doing more of to try to get America out of this crisis.

"I hope that the government intervenes and calms markets and that people will save money and those savings will be directed at people who need to borrow that money," said Schau.
The market fell hard after a bailout was not negociated. If you are getting nervous about where you stand financially, the best thing you can do is try to live below your means. Economists also advise saving about 8 percent of your income.