People in the Tri-Cities Talk About their Debate Expectations
Posted:
Updated: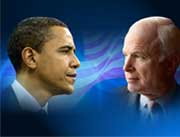 KENNEWICK, Wash-- Barack Obama and John McCain square off in their first presidential debate Friday night.
Locally in the Tri-Cities, some people are holding debate watch parties. KNDU talked to people from both campaigns, and most wanted to hear about two things: the economy and foreign policy. Foreign policy is supposed to be the focus of the debate, but given what's happened in our economy, many people think the focus may change a bit.
Shawn Sant, Chairman of the Franklin County Republicans, says, "I think obviously the economy, even though this was scheduled to be more of a foreign policy forum."
Volunteer for the Obama campaign, Fatima Karim, says, "I would like to hear honest responses and about the bailout plan because they've been working on it and working on it." Another volunteer for Obama's campaign, Omar Sanchez, says, "I would like to see how they are prepared to handle our country's problems with the war, with the economy, immigration especially." Volunteer Coordinator Jailyn Biorn says, "I really want to know what they're going to do, what McCain thinks about how long we're going to be in Iraq. Each day is costing in the trillions."
Many people tied some of our county's financial problems to the war. Democrat George Fearing says, "The Iraq war is integrally tied to our worsening economy. We spent so much money in Iraq that we can't build out infrastructure here in the United States." While Republican Patrick McBurney says, "As a Republican, what I care about is not a foreign policy that has people feeling good about us, but a foreign policy that will keep us safe from those who want to do us harm."
In the Tri-Cities, Democrats are heading to the Richland Community Center around 5:30 p.m. Friday night. Republicans are gathering at the Kennewick Library to watch the debate.