Sunfair Parades Rolls Through Yakima
Posted:
Updated: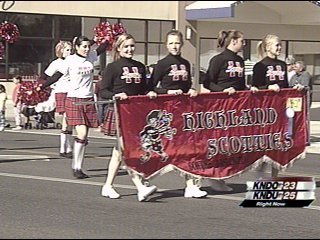 YAKIMA--People from all over the Yakima Valley came to see the Sunfair parade Saturday morning. More than 25 blocks of Yakima Avenue were closed for the largest ever edition of the annual parade.
An organizer of the parade says more than 15,000 people attended. With the perfect weather, it is not a surprise the whole parade route was packed. No matter what part of the parade people go to see, no one leaves disappointed.
"[My son] likes to come for the candy and see all the sights," Tynan Hollan said. "[Especially] the police deal and the little cars and the old cars and the fire trucks."
"We like the floats, the other bands and the motorcycle policemen," Linda Rogers said.
The 47th Sunfair Parade had a record 136 different attractions. It is a chance for the Yakima Valley to show what it has to offer.
"It gives the local community a chance to show off some of our fine bands and our local service clubs," Parade President Gene Dawson said.
Dawson estimates the parade brings in close to $100,000 to Yakima businesses. People see parts of Yakima they might normally miss.
"I think it's real important it brings the community together," Linda Hinkley said. "You see neighbors that you don't always see."
The weather cooperated this year and the parade went smoothly. But organizers will still try to make improvements for next year.
"We just do it for the love of putting on a parade. We keep looking for bigger and better things," Dawson said.