Schools Give Students Time for the Fair
Posted:
Updated: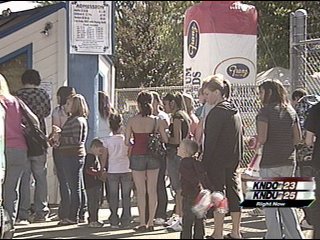 YAKIMA, Wa.- Snyder-Franz day is known to students as their time to enjoy the fair without the worry of school or weekend traffic.
"I actually thought it was a national holiday because I've been having it since I was a little kid," said Kevin Madson, a junior at West Valley High School.
And that tradition is seen for schools and students throughout the Yakima Valley. Last year, more than 38,000 people attended this one day.
"We get the whole day off so I'm thinking most people will take advantage of it and come today," said Kaiti Dell, a ninth grader at Selah Junior High School.
Another reason so many people come is for the great discounts. Today the special is a $25 wristband that covers admission and all rides until closing. Students say this deal is hard to pass up.
"If you think about it you can ride one ride for about five dollars or you can ride that ride 5 times and its worth a wrist band so I think its pretty smart to do that," said Dell.
And money isn't the only concern. Kaiti says she's already gone to the fair 3 times.
"I think its good for people to support the fair and the community," said Dell.
Even though schools use this day as a teacher work-day, students say giving them this day off makes a difference.
"Kinda promotes going to the fair and not skipping school," said Madson.
Students like Kaiti and Kevin say they'll be at the fair all day hanging out with their friends and family.