Lifesaving and Humanitarian Awards Handed Out To People in Tri-Cities
Posted:
Updated: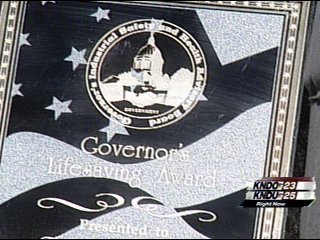 KENNEWICK, Wash.-- Thomas Woods, Frances Sharpe, Brad Jackson, Roy Massey, Jeffrey Bickle, and Tanner Mink, have one thing in common.
Last week these real life heroes were awarded for helping save someone's life.
"There was a gentleman at CBRC that collapsed on a treadmill, and we were able to resuscitate him in just minutes," said Frances Sharpe, a registered nurse at Kadlec Medical Center.
Sharpe says she hopes her story inspires others to learn.
"I'd like to think that from people knowing my story, they can be brave and take a step toward saving a life, like learning CPR basics," said, Sharpe.
Similar to Sharpe's story is Brad Jackson's. Jackson works at the H.A.M.M.E.R. facility in Hanford, and was driving when he saw something that made him stop.
"And I came across Kevin he was lying face down on the sidewalk, probably three blocks away from the apartment complex I live," said Jackson.
After giving him CPR, and with the help of paramedics, Kevin McConnell was able to fully recover after a heart attack.
Jackson says he's no hero.
"Sometimes you just get lucky, right place at the right time," said Jackson
But right place at the right time was also what happened to Thomas Woods.
"I observed a small trailer with one end on fire, there was a young man named Garret and I was able to assist him out of the house," said Thomas Woods, Commercial Vehicle Enforcement Officer for State Patrol.
Also honored for their efforts were Roy Massey and Jeffrey Bickle from Walla Walla. Both officers with the Department of Corrections.
And Tanner Mink, a Sergeant at the Washington State Penitentiary. Six different good samaritans, with only one hope.
"Hopefully it's a situation when anybody given the same circumstance would've done the same thing," said Woods.