Dad Calls Daughter 'Hero'
Posted:
Updated: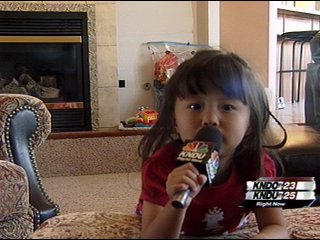 WALLA WALLA, Wash-- Call him her first fan. Three year-old Avarie may have trouble singing her A-B-C's, but don't expect dad to even notice.

He's just thankful to be in the crowd, something made even clearer after last Wednesday's scare.
"I wasn't feeling good all day long and I went to the kitchen," says Craig Arbogast. "I was getting dizzy. I pulled something out of the sink and I don't remember nothing until I woke up on the ground."
What happened next is still fuzzy. But Craig says he fell to the ground. As he was falling he hit his face, leaving him with broken teeth and bruises. Doctors say he lost a lot of blood.

"When I got to the hospital, they told me that it was a good thing I woke up and she's the one that woke me up. Because of her I did. So she saved my life."
So what exactly did little Avarie do? She cleaned up her father's blood, woke him up, and brought him his cell phone. There he called for help.

"I wasn't scared!" says a shy Avarie.

A modest answer for a girl that kept calm in the face of trouble. And today is a day like any other for the three year-old rock star. But dad says life is a bit different since his daughter's heroics.
"She gets away with a lot more," jokes her father.