Multiple Arrests Made After Major Drug Bust Wednesday Morning
Posted:
Updated: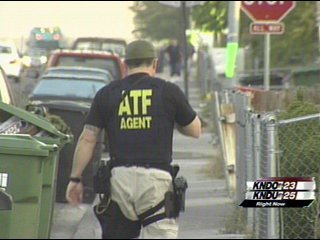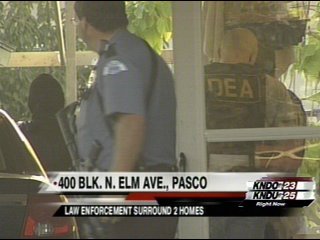 PASCO, Wash. - Over one dozen people arrested after multiple law enforcement agencies raided 12 locations in both Tri-Cities and Spokane Wednesday morning. Weapons and drugs including cocaine and meth were recovered from the scene.
The Pasco Police Department, Immigration and Customs Enforcement (ICE), Drug Enforcement Administration (DEA), the Bureau of Alcohol, Tobacco, Firearms, and Explosives (ATF), and the National Guard all responded to the scene.
Police believe that suspects were selling and trafficking drugs. ICE had been called in as police also believed some of the suspects are illegal immigrants.
The drug raid had been planned for over a year and was finally executed after being reviewed by a Grand Jury.
"I would like to commend the local, state and federal narcotics officers for their dedication and hard work, which has culminated with today's arrests," said Washington State Patrol Chief John R. Batiste. "This important work will reduce the supply of Meth and other drugs on the streets of communities throughout the Northwest."
Kennewick Chief of Police Ken Hohenberg stated, "Working in collaboration with our Federal partners is another strategy in keeping our communities safe -- it is working here in the Tri-Cities."
Arrests include:
ALEJANDRO VIZCARRA-MULLAN, age 25, Tri-Cities
MODESTA RIVAS-PENA, a/k/a "Concha", age 44, Tri-Cities
ANA MARIA ZAZUETA-BUENO, age 43, Tri-Cities
JESUS ROGELIA BUENO-FUENTES, a/k/a Rogelia Fuentes, age 58, Tri-Cities
SHAWNA LYNN ANDERSON, age 33, Spokane
CARLOS VALDEZ-RIOS, a/k/a Ines Tamayo-Lopez, a/k/a Tamayo Lopez-Ines, age 28, Spokane
WARNER WILLIAM SLATER, age 43, Spokane
DANIEL ALLEN FLAGHERTY, age 34, Greenacres
GEORGE FLAGHERTY, age 37, Spokane Valley
CHARLES McGEE, age 44, Spokane.
A federal grand jury returned a fifteen-count sealed indictment on September 11, 2008, charging these people as members of a drug conspiracy responsible for distributing methamphetamine in Eastern Washington during the last 4-years.