Yakima Groups Work to Prevent Youth Suicide
Posted:
Updated: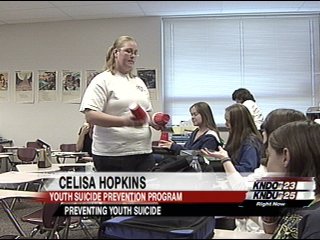 MOXEE--High school can be a tough time for teens. Stress comes from lots of places. To some, suicide can seem like a way out.
From 2002 to 2006 there were more than 200 attempted youth suicides in Yakima County. East Valley High School is one of six grade schools in the county with a suicide prevention program. Students are taught to to look for warning signs, like drug use, depression and access to guns. They're teaching kids how to spot a peer in trouble.
"The more info that youth have, the more that they know in terms of warning signs, the more likely they are to intervene with one of their friends and help," Celisa Hopkins, Youth Suicide Prevention Program Field Coordinator for Yakima County, said.
Krystal Ash has been in LifeSavers--East Valley High School's suicide prevention program--for two years. What she learned paid off when she noticed a friend acting differently.
"She was kind of feeling down a lot, and she started not coming to school anymore," Ash said. "I actually noticed some physical harm that she was doing to herself on her arms."
Ash took her to a counselor and got her help. Showing you care can be critical to saving a life.
"Do something to take some kind of action to intervene," Jim Pinnell, Central Washington Comprehensive Mental Health, said. "Seek help; don't stand by and watch somebody who is in distress."

Outside of schools there is also SAFE--Suicide Awareness For Everyone. They teach parents how to talk to kids about suicide.

"Recognize when those people might be at risk for suicide," Pinnell, who runs the SAFE program, said. "It also trains them on how to intervene in that particular situation."
If you or someone you know is thinking about suicide, they can get help by calling 1-800-273-TALK.