Central Washington State Fair Bringing Businesses to One Yakima Coffee Shop
Posted:
Updated: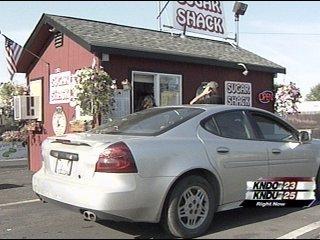 YAKIMA -- High attendance at the Central Washington State Fair means good news for businesses on Fair Avenue.
Since the fair opened on September 26th, more than 120,000 people have attended, and businesses like Sugar Shack Espresso are reaping the benefits.
The owner of the espresso stand, Holly Ferguson says attributes the $1 fair special to attracting so many people to fair avenue. Ferguson says that traffic is exactly what they needed.
"We usually 60 to 70 [costumers] a day but right now we're up to 100 or plus." Said Ferguson.
That's the amount of coffee sold in just one shift. The Sugar Shack opened almost six months ago, and like any other business they started off slow. But now, on their busiest day this week they've seen around 300 customers.
Many people go to the fair for the classic fair food, but coffee is a whole different story.
"The fair is way too expsenive right now for coffee, come over here its way cheaper." Said Randy Ramsfield, a customer at Sugar Shack.
A 12 oz. latte is just $1. That's $2 to $3 less than the fair price. That's why some days, Sugar Shack makes up to $600.
But she knows the good business could be gone soon. Furgeson says they're trying to keep their clientele coming, even after the fair is over.
"We try to remember their drink, their name so it gives them a reason to come back, they don't have to order." Stated Furgeson.
Employees at the fair have been some of the most loyal customers this week. They've enjoyed the service so much that everyday about three to four people meet Sugar Shack employees at the fair gates, with coffee in hand.
Sugar shack customers say there are two reasons they'll come back. One, the great service, and two, the good conversation.
The sugar shack will keep their fair specials until Sunday. after that they'll continue to have competitive prices.