Credit Crunch Hits America But Not Hurting GESA or HAPO
Posted:
Updated: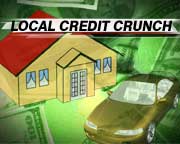 RICHLAND, Wash-- The Presidents of GESA and HAPO say the credit crunch is not affecting their credit unions. They say in the Tri-Cities our economy is stable making loans not as hard to get, like in other areas of the country.

They think news coming out of the stock market is causing more panic than necessary.

Stocks slid Thursday in light of tightening credit markets, but has the credit freeze hit the Tri-Cities, both presidents say no.

"Really in much of Eastern Washington there are institutions that are local like GESA Credit Union that have plenty of liquidity and we have the ability to continue lending to members as much as they need," said Christina Brown, President and CEO of GESA.

Some banks have raised the standards for who can qualify for loans but HAPO and GESA say they don't need to do this.

"I think generally in the Tri-Cities lending remains very open and also with our competition. I don't see any credit crunch locally especially with consumer lending," said David Schulz, HAPO President and CEO.

Another worry is dwindling creidt limits on credit cards.

"We have never done that and we have no plans to do that. We have no need to do that cause of the conservative lending practices we have experienced," said Brown.

Some say it may take months before the full effects of the crisis settle in, but HAPO's president doesn't see any major changes on the horizon.

"I'm a Tri-Citian like everyone else. I can speak for our institution. I think a lot remains to be unveiled to the public to the affect globally and nationally to what the larger banks are going to do," said Schulz.
GESA's President said they have seen an increase in delinquencies. As people scramble to keep their homes from foreclosing they sometimes default on their auto loans, but access to loans has not been affected.