New Rule Allows A Pound and a Half of Medical Marijuana By State Law
Posted:
Updated: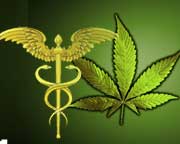 KENNEWICK, Wash.-- 24 ounces of medical marijuana, and up to 15 plants. That's what the Washington Department of Health defines as a 60 day supply.
A rule they say took some research to figure out.
"The different kind of illnesses people use it for, the different sizes of people, different potency of marijuana," said Tim Church, with the Washington Department of Health.
DOH says they didn't just ask patients in need, but also law enforcement.
"We're trying to find what works for patients, police, and the entire state," said Church.
While the state Health Department says 24 ounces of marijuana is the law, for a 60 day supply, local law enforcement agencies are voicing their concerns.
"24 ounces works out to a pound and a half," said Sergeant Ken Lattin, with the Kennewick Police Department.
"That's a lot of marijuana for one person to have on hand, even for medical marijuana use," said Captain Jim Raymond, with the Pasco Police Department.
What concerns police is medical marijuana could be a gateway for crime.
"You can imagine the street value of a pound and a half, it's pretty significant," said Lattin.
But also a significant penalty if the drug is abused.
"That doesn't give them a right to sell it or produce it, outside of their own personal use," said Raymond.
Captain Mike Cobb says abuse is always a concern, but the risk is low.
"I've had friends who have been cancer patients, who the use of medical marijuana has made a life altering difference for them," said Captain Mike Cobb, with the Richland Police Department.
24 ounces Cobb says doesn't seem unrealistic.
"The benefits far outweigh the potential concerns, just from my personal involvement," said Cobb.