"Our Babies Can't Wait" Program Gets Underway In The Tri-Cities
Posted:
Updated: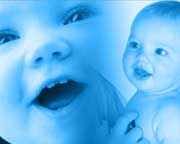 KENNEWICK, Wash. - According to the Benton Franklin Health District teen pregnancy rates are above average in Benton County and the statistics show that in Franklin County teen pregnancy rates are twice that of the state average.
State Education leaders report high school drop out rates for the Kennewick and Pasco School Districts are above the state average.
Now there is a new program underway to reduce problems with our youth. United Way is starting up a series of programs called Community Solutions. It is aimed at improving our community.
The first program being put into motion is called "Our Babies Can't Wait". There are plans for a pilot program to get underway in East Kennewick.
Nurses and medical leaders would help mothers and families with newborns by teaching them good parenting skills.
20-year old Rachel Heintz of Kennewick is the mother of two children and has a third on the way. She said it is tough being a young mom, "just being young not knowing stuff and all the responsibility. It's a big responsibility."
Sandy Owen is the Director of Preventive Health Services at the Benton Franklin Health District.
She has been working for the health department for 30 years. When she started, every single mother who gave birth to her first child was checked on by the state. The program was cut because of funding. Owen said it was a great service and that the community is at a disadvantage not having it.
Owen said, "All parents love their children, but not all parents have the tools they need."
Owen said there is new research that show significant development in the first three years of life. She said the first three years "are absolutely critical. We can't redo them later on."
Leaders with the program would go into the homes of people with newborns and teach about parenting and early child development.
Heintz said she thinks the program sounds like a great idea. She said, "I think it would be good especially being so young, you don't know what you are doing it would be nice to have help."
Owen hopes down the road this would reduce high school drop out rates, high teen pregnancy rates and cut down on the number of teens in jail.
Owen said, "The community really does need to step up and be interested ... I think we could be doing better in helping parents learn better ways of doing things without them ending up in the system so to speak."
The program is an entire community education program. The infants involved in this program would be tracked until they were 20 years old. The ultimate goal is to have more successful young people coming out of our community.