Motorized Wheelchairs and Bicycles Have Almost the Same Rules As Cars On The Road
Posted:
Updated: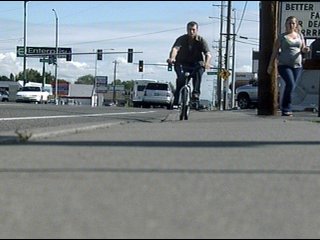 KENNEWICK, Wash.-- When Diana Law was the victim of a hit and run on Sunday night, she says she was following the law.
"They've been telling me since my wheelchair is motorized, I have to stay off the sidewalk, it's only for people walking," said Diana Law.
That according to Kennewick Police.
"They do have to follow the rules of the road which means they have to do the same thing that a vehicle does," said Officer Tony Valdez, with the Kennewick Police Department.
Police say if the speed limit is 30 or under, then a motorized wheelchair should be traveling on the side of the road, but if the speed limit is over 35 then a wheelchair is allowed on the sidewalk.
The same applies to bicyclists on the road, unless there's a designated area. But some say they'd rather be safe than sorry.
"I usually don't follow any rules, I just go wherever I want to," said Michael Tompkins, who rides his bike to get around town.
But what you don't want is a $124 dollar for breaking the rules. Still this bicyclist says it's worth the fine.
"A two ton vehicle compared to a 100 or 200 pound vehicle," said Tompkins.
Unlike him, others follow the rules despite the risk.
"We obey all the same laws, we stop at lights, it's the same as driving a car," said Bill Blackburn, who rides his bike for pleasure.
Always hoping drivers are mindful, police say bicyclists, and riders in motorized wheelchairs should stay alert.
"High visibility reflective type of clothing, which really helps because they're much smaller and harder to see," said Valdez.