Kennewick School Custodian Going To Iraq For A Year
Posted:
Updated: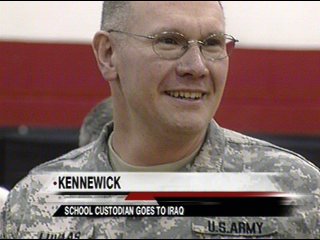 KENNEWICK, Wash.-- The crowd cheers, and the man they've all been waiting to see makes his entrance. On Wednesday, students and staff at Highlands got together for a special send-off and assembly.
44-year-old Lauren Luvaas, is a Captain for the US Army, but at Highlands Middle School, he's more than that.
"I've been working here since 1995," said Lauren Luvaas, Custodian at Highlands Middle School and US Army Captain.
Luvaas says he's loved working as the night custodian ever since.
"The building, the people, are just I think it's the nicest school in the district," said Luvaas.
But when the Army called in July he couldn't say no.
"Kuwait first in two weeks, and later I go to Iraq," said Luvaas.
A call of duty some students at Highlands can relate to.
"It's going to be a little sad, because my two brothers went to Iraq and it was a little sad," said Macayla Reed, a 6th grade student at Highlands.
Sadness and fear, wife Dawn knows all too well.
"I'm scared, we definitely want him to come home safely," said Dawn Luvaas.
Luvaas says he was overwhelmed by the students' response, and out of many memories he will always remember one.
"The value of friendship, that's the one thing I can say," said Luvaas.
"It's an honor for him to serve and I thank him a lot," said Anthony McFadden, another student at Highlands.
At the end of the assembly many students lined up to shake Luvaas' hand. Hand shakes full of gratitude, army strong.