The Finley Intertie is Now Complete and Will Help Ease Traffic
Posted:
Updated: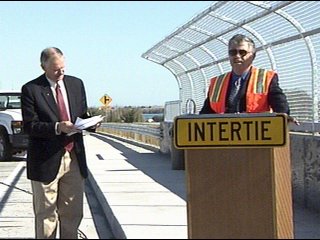 BENTON COUNTY, Wash-- A local road project in the works since 1966 hit a major milestone Wednesday. Phase three of construction on the Finley Intertie is finished and it now connects Finley to I-82.

Truckers making their way to Finley have long been frustrated, they've had to go through traffic in Kennewick in order to get to Finley. Now there is a new way, the Intertie is complete.

"It's gonna save me time, it's gonna save me money," said Christian Cecil, Truck Driver.

This Tennessee trucker has driven through all 48 states. He says bypasses and interties make the transportation business run much smoother.

"It's a good thing. I mean to keep us out of the city. You know, I'm sure that people in the city don't want us over there on Columbia Drive Way, the road I came in on," said Cecil.

The intertie starts off at the Locust Grove Exit on I-82 and connects to SR-397. This gives truckers and drivers coming from Oregon a better way to get to Finley.

"There's a high volume of trucks that go here all the time. They needed better access to the industrial corridor along the river in order for that to be a viable site the next 10 years," said Claude Oliver, Benton County Commissioner.

The project costs $21 million, and stretches 11 miles through the remote areas of Benton County connecting to the several businesses along the river in Finley.

"There's just as much better opportunity for industrial development and growth in the Finley area," said Ross Dundee, Benton County Public Works Director.

Commissioner Claude Oliver hopes the area around the intertie will see some housing and commercial developments.

"Of course that does open up that back side of the county there that we'll see some development eventually as a result of this project," said

The intertie cuts about 15 minutes off the travelling time for drivers, so it saves time and gas money.