Small School District Wins Big Prize
Posted:
Updated: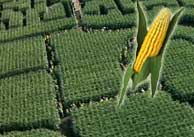 YAKIMA, Wash-- A group of students entered into an art contest and ended up winning a day of fun for their entire school district. At Schell Produce and Corn Maze a kid can be a kid.
Free tickets to the corn maze for the class that created the best entry sign for the maze. Students at Bickleton School District met the challenge. Thursday Rich Schell gave the superintendant a pass for all 102 students.
"Everybody's excited. In fact I went into the class room to talk to some of the kids and they've been down to the corn maze half a dozen times already," said Rick Palmer, superintendent.
For the past nine years Schell has put together the corn maze in Toppenish. Ten tall acres to search your way through plus, plenty of other attractions. Schell said there's one reason he puts so much effort into creating the best corn maze around.
"I love kids and that's the reason I started it," he said.
For him a corn maze just isn't enough, he's strived to create a place where kids can truly go wild.
"We have the straw maze behind us here and a straw pyramid with two slides and we also have a petting zoo over here," said Schell.
"Anytime you can bring a smile to kid's faces you're doing the right thing. And we're excited to come down here and thankful they invited us for this contest," said Palmer.
Another perk at Schell's Corn Maze everyone leaves with a pumpkin.